Gentleman in Total Black
Wednesday, 14 October, 2015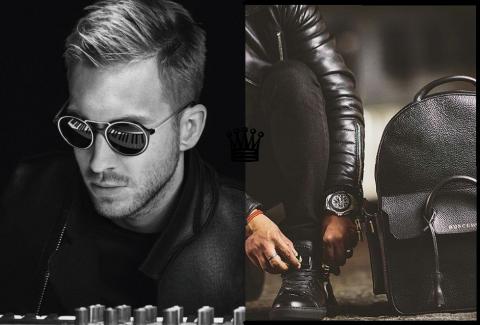 As image consultant I consider the black more than one color because who wears the black has a style that sets it apart forever. The black truerly slims, but for some physical forms is not among the most appropriate colors. Black remains a choice of elegance although I find on some occasions the deep blue that fits better. The analysis of the black color in the image consulting is among the color par excellence of the winter man. Black can be appealing with skins and accessories applied, sensual when sober, it is always the star of the day and night and in any season.
Whatever you think the outfit's trend is all black for this season, and if you do not want to give the appearance of a look ready to follow a funeral as image consultant I can advise about simple, but rewarding style tips.
a. When you dress from head to toe in black make sure to mix fabrics and textures so that will give your look the right details to break the outfit for a look more fun and a sophisticated atmosphere. You can for instance combine your dress with a knitted tie or cashmere sweater.
b. Adding to the look small details of another hue the trend is still assured. I love to match shirts from intense blue or a touch of yellow as seen on the catwalk and at Dior Homme.
c. For all the gentlemen who love the black in their free time I would not hesitate to advise them against excessive shine. Leather jacket and black jeans are always a classic style if you want to point at the trend, while I disagree with those that in the casual all-black "demands" only simplicity, you have always to make sure that it reflects your style and pleasure to feel good about everything you wear.