The image consulting: THE AUTUMN MAN
Wednesday, 25 March, 2015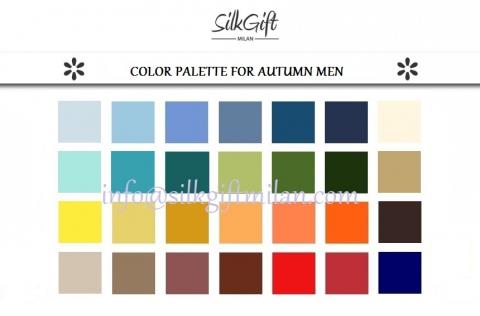 The image consulting by Silk Gift Milan is the art and science to manage the image through the best use of our personal resources (Clothing, Grooming and the Body Language) to achieve our personal goals, professional and social roles in life.
An image consulting is useful for
a businessman to face an important interview,

if a young man wants to make a good impression for a special occasion,
the new promoted boss or manager that is consistently rated by his peers,
a job's seeker that needs to stay and compete in a crowd of aspirants.
What I love to repeat is that we all need to project our image in a more convincing way. As an image consultant I strongly believe that they are all important resources, everyone can introduce himself in his personal, professional and social life.
The image strongly influences the perception of the people we meet. The visual communication is an important part of the communication ... we remember what we see, we forget what we listen to. In my work as an image consultant I have seen how "vital" is the first impression and how positive it is to take any personal and professional relationship.
Through the color's analysis , according to a scientific theory, it is possible to identify four groups of colors in nature, that are conventionally defined as the four seasons (Fall, Winter, Spring, Summer). Each person, according to his physical features, is attributable to a specific season. Depending on your season, you will learn to choose the colors to wear, the make-up and the 'hair style most appropriate for you.
Starting with this post, I take into account the analysis of the color, the image consulting where the color's analys is combined with the study of the form and style are the best complement for the work of Silk Gift Milan.
The plus that distinguishes Silk Gift Milan is the Italian taste, recognized throughout the world for good taste, which boastes a back office work of excellence.
THE AUTUMN MAN
The dominant colors of the autumn man are warm, rich and golden.
Hair: brown, golden blonde, red, auburn.
Skin: Beige, ivory, bronze, caramel, olive and he can have freckles.
Eyes: Blue, Green, Hazel
Your best colors: cream, beige, camel, mustard yellow, medium brown and dark, warm red, orange, rust red, navy blue, soft blue, dark turquoise, teal, olive green, pine green, khaki.
Your basic neutral colors: cream, camel, chocolate brown, navy blue.
Important to know: Use the basic colors for coats, suits and the essential dresses because these tones work well with all colors and can be easily matched.
Avoid: any cool shades and bright - black, gray, purple, burgundy, pink.
The jewel: Gold
Among the autumn famous men: Rod Stewart, Michael Fassbender, Ruben Cortada, Eddie Redmayne, Rudy Zerby, David Beckham ..
Call for us to book an image consulting section to discover what is your season!