How to wear socks with heels
Tuesday, 24 November, 2015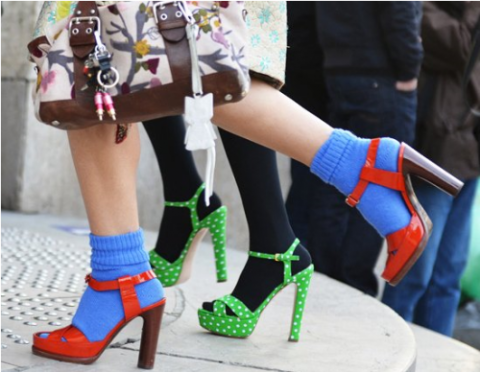 Ad shown that fashion is often unpredictable, to match socks with sandals, for years it has been considered a major faux pas in the footwear's world, today it has become a trend for celebrities, experts and stars of the fashion Street style. In its proposals for the Fashion Week autumn / winter 2015-16 sandals with socks became evident by Dsquared2, Stella Jean and Tory Burch ..., Even if I personally admire more all the fantastic sandals than the socks!
I am sure that your creativity does not fail to surprise even fashion advicer, in fact it is not by chance that I purposely wanted to gather ideas of how to match socks with sandals by taking inspiration from milanese street style and I was thrilled.
Total black look: black socks and sandals ... .a real chic detail, that it is even more trendy when the sandal has metal parts (with silver studs like rockstuds by Valentino) and if you have at least one item from the color in the outfit, the look becomes gorgeous.
For a right look for the whole day, from work, till the happy hour 's time, on leaving until the evening, try a light colored socks with a black shoe with a classic heel. Choose your favorite heels and oppose the sandals with a white or pastel socks. As image consultant in the outfit I would not miss the pencil skirt that come just below the knee, it works best.
I've always liked women who dare to something more daring and alternative to the current trend, changing and often likely to create their personality. Wear dark socks with neon or bright color shoes by combining with a softer color dress and a coat chosen from the palette of the neutral colors.
For people like me who has a inner passion for animal style or decorated heels wear with socks equally daring. You will not appear "too much" if the shoes and socks have a pattern similar shades.'s color of the outfit.
Eclectic is to wear jeans, heels with socks, maybe lilac color with silver heels, so you will give to your look a touch of color just by keeping your feet warm.
Combine also socks with the prints by creating a link with rest of the outfit, but, remember that you must follow the similar color palette shades to keep the correct combination of its tones.
The combinations are endless, it is an explosion of creativity and it is enough to look through the drawers of our wardrobes to find out the right sock to combine with our favorite heel, let apart becouse it was too eccentric. As an image consultant I think the key to wear socks with heels is the choice of right socks for the outfit and the mix of unexpected colors.