Holiday Style for Gorgeous Moms
Thursday, 17 December, 2015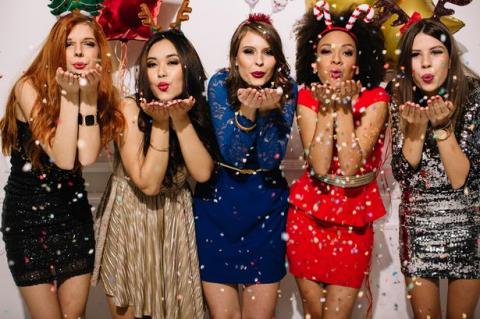 Christmas time is a period during which is gathered the whole family, you can taste delicious dishes and you are surrounded by decorations, gifts and the happy atmosphere ... or at least is the maximum of the wish that we all expected to feel. By the way not even miss the stress of many mothers (like almost all women) of pressure to get the most out of dress that they are going to wear.
It is the year of sequins. Make up your minds that you're never too old to wear them. In my image consulting's service it is recognized that this is not how glint appears in the dress, as to how the sequins and style can blend together.
Christmas party dresses with bateau neckline is a particularly elegant. As an image consultant and personal shopper I find that these dresses are very beautiful because they attract the attention upwards above the clavicles, removing the eyes from trouble's areas below. All women always say that the neckline will never go out of fashion, it is the maturity of a woman.
Never lose the courage to dress with color ... if it is told by an image consultant!! Look at the Queen Elizabeth ... age does not define what color may or may not go! Black, red, silver and white are classic colors of every year for the Christmas time that are chosen by almost everyone. Affection for these shades will make you see lost in the crowd.
I love the lace because I have always believed in this choice. In an evening dress it adds structure to the wearer and look really flattering. The lace shines alone so it does not like to share its appeal with many accessories.
The dresses with prints are fun and I always manage to bring liveliness. Elder women wear always the prints because so they feel less over. Prints can help to camouflage the critical areas especially in mothers over 50.
The choice of dressing the color blocking is not only for young people ... Remember when choosing that the dark colors hide any roundness, while light colors or bright can attract the attention.
You may also like: To Surprise thanks to a Gift will be a Natural Consequenze --- Pregnancy in Heels