Prince George, the youngest of the world's style icon.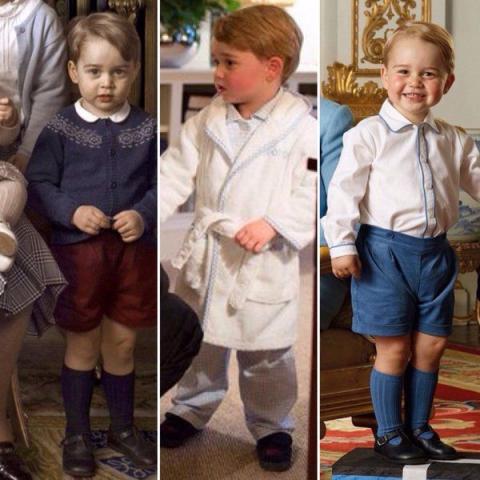 When Prince George comes out in public he does not just melt the hearts, but can cause a spike in sales in the clothing market. Just two years (soon he will be 3 in July!) The Prince George is probably one of the youngest influencers in the fashion world ... a real trendsetter that as soon as he wears an outfit / accessory, it quickly disappears from the shelves. If the merit returns particularly to his mother Kate Middleton, little George with retro chic style is no less a source of inspiration for the little ones in the UK and in the rest of the planet. It must be said that in combination with the price that it is very reasonable that it often motivates the success.
The Son like The mother ;"The Kate Middleton effect" in fact, defined as the phenomenon of great impact on fashion where every garment worn by the Duchess is guaranteed to be sold out within a few minutes, it does not surprise me that the Prince George and Princess Charlotte are becoming great successors.
A great lesson in style is that there is no need to spend a lot to look elegant: Kate regularly wears clothes from stores such as Topshop, Zara and Whistles (a Zara equivalent in the UK), and the same trend for the Prince George that on last April 22 the extraordinary fast fashion wrap dress on sale on My1stYear that he wore for his real duty of greeting the US President and his First Lady Michelle Obama and his entourage on time creates the sold out of the cloth! ... And certainly there will be other occasions!
Silk Gift Milan by Amanda Archetti is involved for personal shopping to the child too which often needs to a wardrobe planning, dressing for special events or advice. I always propose, in the same way for women and men, with the knowledge that the best product is not a measure of money and my look, which hardly has fashion brands clothes, ( but for the must have or anyway choosing the tailor made )it is the most coherent form for what I believe without telling ridiculous slogan.
You may also like: The personal shopper baby help you to find out the kid's personal style.