The image consulting: THE SUMMER MAN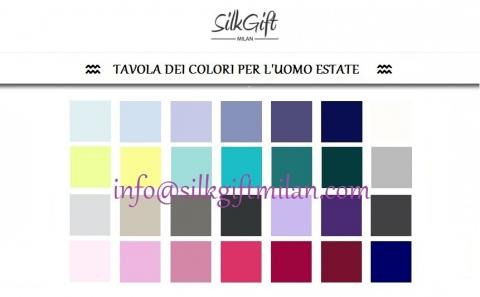 "Clothes make the man"
Achieving goals in our personal and professional life, making a great first impression by improving our personal brand can be a difficult game to play. ... It takes more than just the right spot or a rail/track record: it takes the right wardrobe!
As personal shopper and image consultant I think our dress is the right key. Look good to feel safer and therefore more willing and able to tackle tasks, to achieve goals is a priority that we should take all. But having the right clothes in the wardrobe means shopping something to be avoided by so many men. Go for a game of football with friends, do not miss the happy hour or go fishing ..., provided that they all prefer to go away from stores and malls. Although dragged to the store you do not have the certainty of finding out the right things. Only since a trip to the store is equivalent to a trip in the air of severity, a personal shopper by Silk Gift Milan may be the right answer to your style. Staying on the football's key let me compare my job of image consultant with what in the football one is the coach. While the image consultant will lead you through the shops, you will discover that you know what to buy is the best, easier and cheaper way to shop.
If you are so busy and your schedule does not leave time for shopping, a personal shopper and image consultant by Silk Gift Milan can shop for you and bring your pour chases directly to you. It is a service of medium-high level, the so called shopping on demand and requires a set budget and money to use.
It takes 90 minutes for an image consultant during which we determine the colors and style that best enhance you.
Before the day of shopping, the image consultant by Silk Gift Milan will establish a shopping list, preferences budget, brand and style, and how to pay for the shopping's day. Based on these, the consultant will select the best trading positions.
Helpful tricks:
The personal shopping is usually preferred for the morning, when everyone is fresh and full of energy and the shops are not too crowded.
If you plan to buy a suit, wearing a shirt and tie to avoid having to change clothes in a shirt and tie in each store.
Bring your card's color and personal style guide that will be issued before by the image consulting to be able to coordinate with the new shopping.
During personal shopping by Silk Gift Milan what you can expect:
Customer's satisfaction for choosing Silk Gift Milan for the choice of the place and the established time.
Before you start shopping you need a short chat to discover if any of your needs have changed and decide the items needed in advance on your shopping list.
You will learn by the boards of Silk Gift Milan how to do successful shopping.
The garments and accessories are tested and selected with care.
We recommend repairs and personalisations for clothes and accessories.
Where are the necessary accessories to match with your purchases and what are the one that can be put on hold.
The best buys at the end of the shopping.
SUMMER MAN
Colors: Are you a Summer man , Your dominant features are cool, ash and rosy.
Hair: Blond or light ash brown, light or medium brown ash, gray, silver.
Skin: Skin color is fresh and light with blue or pink undertone, porcelain, light beige, medium beige.
Eyes: Light gray blue or green, soft blue, hazel.
Your best colors are fresh, soft and lightweight.
Optical white, gray, medium gray, dove gray, light gray, light blue, gray blue, sky blue, violet blue, royal blue, turquoise, mint, teal, light yellow, light pink, purple, dark purple, red raspberry.
Neutral colors basic: pure white, light gray, charcoal gray, navy (front row)
Important to know: Use the basic colors for coats, suits and dresses essential because these tones work well with all colors and can be matched easily.
Avoid: Every warm tone and dark - black, dark brown, orange, yellow mustard, olive green.
The jewels: Silver
Among men spring famous: Jake Gyllenhaal, Daniel Craig, Bradley Cooper, John Slattery, Ryan Phillippe, Donald Sutherland, Mark Harmon, Hugh Laurie, Harrison Ford, John Savage.