The image consulting: THE WINTER MAN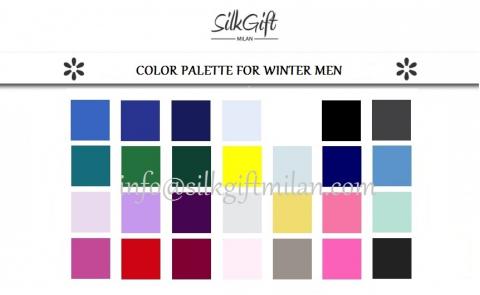 The image consultant and personal stylist are important services that deserve to be taken into account, Silk Gift Milan has the expertise and the right skills to meet all the requirements that can define your personal image to help you to achieve your goals.
The aims may be those within a company that believes in human resources as the most valuable resource, even more now during the crisis. If your employees are wearing professional attire, business casual, or uniforms, their image and their behavior significantly affect your brand and therefore your bottom line. To improve their professionality gives the company a competitive advantage that is important.
The image consulting by Silk Gift Milan is not only for big companies, but can involve one or all of the following aspects:
- Make sure that the colors you wear reflect the position and correspond to your personal color's palette.
- Create your own professional and informal image by adding a strong sense to the individual personality.
- Ensure that the style of dress for your business always fit you in every way.
- Build a wardrobe that suits your work and the image you want to develop socially.
- Make sure the grooming is good and perfect, hair, nails, teeth, toiletries, shoes, body and face.
- Organize your wardrobe in an efficient and practical way.
- Make sure that the cut of the pants, shirts and dresses can combine with your body's shape to enhance better your single silhouette.
- Create a personal brand - the Personal Branding -from the way of dressing to create distinction and make you recognizable.
- In the stores the image consulting is essential to give expert advice in order to sell the customer the perfect purchase by respecting their colors, the body's shape and style.
One of the first questions is why should I choose Silk Gift Milan for my image consulting?
a. Even if I have a keen eye for style and details mix with a real passion for the whole aesthetic I do not just rely on my opinion, in my image consulting I use many objective measures to ensure to advise the right dress to wear.
b. I always take into account personal preferences and sentimental ones, you will never wear things that are not comfortable and does not make you feel at ease.
c. I always work within your budget, and help you to find out the clothes that you can afford.
d. I do not focus only on the latest fashion's trends and if I recommend a trendy garment/accessory I will give you the idea of ​​how long it will be on fashion again.
e. As Co-founder by Silk Gift Milan and member of the advisers' image I chose to respect the strict code of ethics required by us, to give you confidence that what I say is always true and a right statements and that I will act always in a professional manner in all my relationship.
I keep on with the journey through the seasons of the image consulting started with the first post dedicated to the Autumn man.
THE WINTER MAN
The main color of the winter man are fresh and contrasting,
Hair: blacks, dark ash, silver / gray, brown-black,
Skin: Oliva, cocoa, light beige, medium black.
Eyes: blue or green light, nutty light, soft blue or green, dark brown, black - all with white parts very mixed.
Your best colors: white, pure black, dark gray, dark gray, medium gray, light gray, ice blue, true blue, sky blue, violet blue, royal blue, navy, turquoise, mint, true green, true yellow, light icy pink, hot pink, light frosty purple, dark purple, true red, dark red.
Your basic neutral colors: pure white, navy, charcoal, black (front row)
Important to know: Use the basic colors for coats, suits and must have clothes, because these tones combine well with all colors and can be matched easily.
Avoid: every warm and bright hue-chocolate or medium brown, camel, orange, yellow mustard, olive green, khaki, coral.
The jewel: Silver
Among the famous Winter man there are: Nicholas Cage, Pierce Brosnan, Raul Bova, Robert Downey Jr, Tom Cruise, George Clooney, Richard Gere, Antonio Banderas, Eddie Murphy, Denzel Washington, Sean Connery.
Call for us to book an image consulting section to discover what is your season!