5 Trends for Fall 2015 for women over 40
Wednesday, 16 September, 2015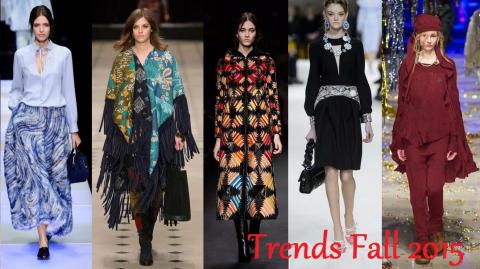 By following the fashion shows these days for the woman spring / summer 2016 seems that summer never has to end, but autumn is coming and the imminent reality of scarves and capes is getting closer. As an image consultant and personal shopper there 'is the season for professional obligation and pleasure that brings me to inform me of all the new trends and I want to share with you the 5 hottest trends for fall / winter 2015-16 by giving some style 's advice. As trends I want to choose the most interesting for the all women over 40.
1. Long skirts
Good news for all those women who suffer from feeling cold at their legs. So off pants for skirts almost to the ankles, sexy models like Pradal Gurung with transparent lace skirts and flowy good for all women shaped as inverted triangle because it helps to create attractive look down. To be worn with boots, loafers, sandals and court shoes with woolen sock in sight that is another trend on this season.
2. Poncho
More than ever is available in different cuts, fabrics, styles and costs. Call it what you want poncho, cape, shawl or big scarf is the ideal garment when temperatures begin to fall seriously.
3. Long Coats
The longer coats are the better is on this season. There is who defines them the "plush robes when you feel lazy" I consider long coat between the trends most appealing on this season. The most important thing as a personal shopper that I always recommend is the quality of the fabric that you choose to be of good wool, cashmere or cracks. There is a variety of options, from rounded shoulders, belted at the waist, masculine-cut coats with several options in the middle. Regardless of the color and the model selection, a great way to bring the trend is to wear the coat as a dress.
4. The fall in the face
I love to add to this trend because we enter the heart of my work as an image consultant, or whatever we wear just below the face. On the catwalks around the world we have seen beautiful necklines, necklaces and particularly appealing around the neckline. So the season is promising to showcase the best features of your face.
As an image consultant for the neckline I advise:
Woman with a silhouette as an Inverted Triangle: Wear V-necklines that create the illusion of narrow shoulders.
Woman with silhouettes circle: The V-neckline is ideal for drawing attention to your face.
5. Asymmetric Lines:
I really love this trend when the color is monocromatique by an important and flattering and walkways of wonderful colors if they are seen as the top Marsala wine, olive, white and burgundy. They can give a leaner look to your look.
Tips from an image consultant:
- Wear a shoulder bag cross.
- An asymmetric top or skirt, if you have an old boss who needs a "new life," ask your tailor to recreate your edge with the 'corner.
- You can wear a scarf diagonally as Michael Kors has proposed.