How to plan your perfect wardrobe
Saturday, 14 January, 2017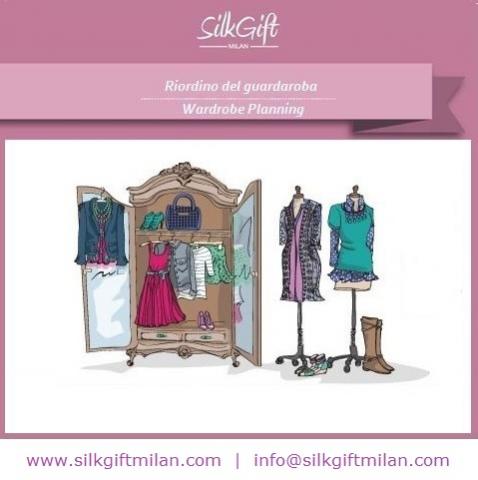 At the beginning of each new year there is even the desire to say: "It is time to remove anything that's old and replace it with the new!! "Of course I think in the large part of the situations.
Remember that small changes can lead to great results, no matter what you decide to do.
Perhaps it has been years that nothing new comes into your wardrobe, you experience a new look or that you have thought about "outsourcing" your style. Have their own style is like having built a great track, on the contrary if it was outdated or nonexistent. It is time for a change!!!
This means that fashion changes, your body changes and of course your age.
YOUR FASHION SENSE: Be certain to stop thinking that fashion is something for others, something impossible for your budget or so changeable that can not take the same step. As an image consultant I always say that the easiest way to follow the fashion is to start by simply paying attention. Magazines, TV or watch other women fashionistas (Street style) as they dress it is a means to understand which elements may come into your wardrobe.
YOUR BODY: That is what it is. If you want/your personal power it is to lose a few pounds Equip yourself with the necessary resources to achieve the goal. If it is many years that your dark stretch pants have taken the rounded shapes of your body then the biggest step you need to do it is to buy a new pair for the size you are today. You may also need to plan to go to the tailor because a dress is too long or wide and your boss will look better decisively in the right size.
YOUR AGE: I am not an Italian strict image consultant I think to dress appropriately according to their age is a topic that merits always a great attention and respect, then dressed with style, taste and TRUST with quality fabrics and tailoring so you can swing with anything.
Ten solutions because in 2017 you will not have to find frustrated undecided in front of your wardrobe:
1. The best wardrobe is well edited: Decide to maintain the inflow of each item in your wardrobe every time you bring new elements. SELL OR DONATE USED PARTS OR SIDE WHEN POSSIBLE.
2. The best wardrobe is well organized: Decide to do it ... do it! All you have to do is to always fold the sweaters and t-shirts, hang up all over the place, bring to the dry cleaner or tailor within a week all the articles that require this attention, donate to charity or sell all items that you do not wear more. In 2017 it will be easier and more pleasant to dress (decide not to wear the same cloth more than once in a fortnight clothing, for example) and shop because you know exactly how is your wardrobe.
3. New underwear: You buy underwear as you do with the rest of your laundry. Begin to think about the lingerie as power dresses. Women love lingerie of course that makes us feel feminine and secure of us, sexy and even a little my sterious.
4. Experience your style: I am not advising you to become like the eclectic Sarah Jessica Parker who never wears the same look, but she will appear in fashion magazines, street style ... to label the things that will gratify the eye, forget the models the "bounty anorexic" or the absurd prices. The intention is to start experimenting and better sharpen your personal style.
5. More selective and thoughtful by impulse buying: This a good premise for 2017. Ask yourself every time: "This garment is in addition to three things that I have in my wardrobe?" If the answer is "NO" then it is a wonderful element for your wardrobe, after depart. Nibble your thinking and your budget oriented to purchase quality items and with more and more personal style you will enhance your outfits.
6. Ignore the size on the label: the body is constantly changing and sizes vary from store to store is important to find time to try before you buy. Remember that there are no standard sizes so do not look at what is written on label; just make sure you buy clothing that fit well to your body and make you feel confident.
7. Stop cover you: I'm not advising you to go around half naked in 2017 of course, but you can not completely cover your body with oversized clothing even if it makes you feel at ease, respected your measurements, your body loves structure. The clothes that fit will make you look slimmer and make you feel safer. Use the New Year as an opportunity to decide to have only the clothes in your wardrobe that fit and flatter your figure ... everything else is out, whether it's too big or too small!
8. Replace any blacks basic garments worn: The perfect wardrobe policy would be one out for one inside. In the list of some black underwear, the long or short boots, leggings, socks, pants, skirts ... but potentially the list will be longer depending on how much/how you depend on the essential black.
9. When it's time to shop for your closet. The most women like the order, comfort and does not like to get out of their own budget, created out of each box the list of things in your possession, the clarity of the things that we know we have makes us feel in peace and makes us see with greater confidence our wardrobe.
10. Stop living in the neutral zone: ... How I love the theme!! "Inject" a little 'right color in your wardrobe. If you see gray, only black, brown and blue, then the mall becomes your oyster!! As an image consultant I always say to start with a non-neutral color that makes you "sing", that will lure because it is well with the color of your skin, your hair and your eyes, and maybe it is the color that you have never had the courage to wear! Never be afraid of all the rules and restrictions of fashion because the first rule to feel good about you is breaking the rules!
Contact us to start the service of wardrobe planning today