Baby Shower Party, emotional experience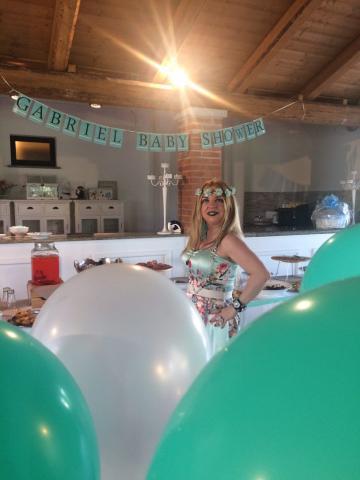 There is no season in our life that is not accompanied by a song or notes of a guitar, a violin ... I always like to think that "our guardian angel finds in the music the means to embrace us whenever we feel emotion" music nourishes and completes unforgettable moments.
By Silk Gift Milan I have always been following the experience of the Baby Shower Party, not by chance all the blogs have been written and followed by me Amanda Archetti because I believe in the special emotions that leave a mark to the uniqueness of each new wonderful season.
Think of all the times you have enjoyed and if you had not had the music you would remember otherwise. Many moms of today have impressed the warm notes of vinyl in their minds, where even a single dusty powder made it all the time unique, with a different sound quality, sometimes less pure, but it is always a pure romance. Do not believe that today you can not create Baby Shower Party experiences or other special occasions with the same emphasis because good music and live one is how to feel part of a timeless wonder. ... Silk Gift Milan by Amanda Archetti has not linked its experience with the collaboration of the songwriter, singer and poet Reverendo Secret ... in the outline of marvelous locations.
Celebrating your passion for music or for an artist in particular could also interest you in a musical theme for a Baby Shower Party where you will organize a memorable party for you and your guests, and of course at affordable prices.
The musical theme is the Aladdin's lamp of creativity so you can surprise your friends as soon as they receive the invitation as a musical note for example or leave them breathless as soon as guitar notes will welcome them on arrival.
In July, Gabriel's mother asked me to make a Baby Shower Party experience with strong emotions, she chose the "Tiffany" theme accompanied by live music, but among the guests her grandmother was 90 years old. which this occasion had to leave an important and memorable sign. The grandson she saw grows now became dad for the first time. Two seasons that destiny wanted to contrast in the imperfect wonders of life.
For the occasion, successful, an unusual and live song has been dedicated and written by the singer Michele Lattanzio alias Reverendo Secret to the unborn baby, to mom, to the dad, Gabriel Baby Shower Party experience ... and wanting to enrich a cover playlist more you love as part of an exclusive gift that is engraved on cd and destined for a foreseeable listening.
The search, attention to detail, personalization and exaltation of the true made in Italy have always been the goals of Silk Gift Milan by Amanda Archetti for all its emotional experience.
You may also like: The Baby Shower Party by Silk Gift Milan is always amazing & The Eco-Friendly Baby Shower Party