Smile, It is time for a cool Selfie!
Friday, 30 December, 2016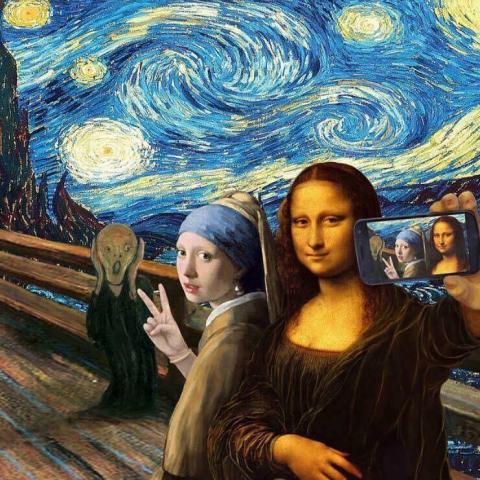 If you think it is boring or a stroke of vanity, the selfie represents an important part of the modern visual language, a new form of communication where motivation and intent are positive / playful base. "I share, therefore I am." The selfie or shots of self are now the most common images on social networking platforms if you are a celebrity or not of every nation.
As an image consultant I think even that if it is done well can be flattering and give even a style plus to the image of a professional profile.
The New Year is on the horizon so it is the time to start preparing for the big moment: New Year's Eve at the stroke of 12 o'clock all of your favorite social media sites will be plastered emoticon cards and selfies. .. Three quick and easy tips that for an image consultant are important for the success of a great selfies.
1. The lighting
As Artist Image Management before any selfie I always tell my artists that if they want to add circles or give an austere heavy they have to put their face in shadow! So, before you click, make sure the lighting is right otherwise reposition yourself before you take the picture. Brightly lit rooms, excellent shots near windows so you have a natural light and outdoor light around you and especially in front of you; this allows the face to have a natural light that can sometimes be lost due to unnatural lighting and universally unflattering fluorescent lighting. I suggest them to experiment and take some pictures to see how they present themselves, before settling on us or / and who you love.
2. To remember before each photo shoot
As an image consultant I can only recommend as a very first attention to a style selfie wearing the right color for you. It reflects on the face and in the eye and makes you look radiant. The jewelry (accessories) are the icing on the cake for added interest and personality. Finally you have always to pay close attention to anything unspeakable they can capture in the background. Before taking the picture look around. It can appear throughout a unique color with the color of the wall behind you or gestures or the friendly faces of your friends or not. Of course everything depends on how far is the camera from the face as to what you will see behind you, but it's worth considering everything to avoid embarrassing moments.
3. Evidence before of a photo shoot
To avoid having to give up the selfie done because you do not like what you see it is good to have first experience with regular shots in multiple locations as well to ask yourself with clear ideas to highlight. An important suggestion by posing as Artist Image Management: "For the most flattering angle, hold the camera above you at a 45 degree angle. This makes the top of the most prominent face and is likely to make you appear with a slimmer face especially if you have a wide chin or double chin ". So keep your head at a slight angle, it helps to add interest to your picture and make you appear without the more "relaxed parts" of the face. To avoid, especially if you are shooting straight at you rather than from above, to bring your chin at the neck for not appearing with a double chin, stressed and rigid.
The expression – As a personal branding consultant I always remember to do something to make the playful image / cheerful / funny. do not be afraid to throw out all the tricks and be yourself. Laugh, smile, frown, stick out your tongue. Whatever you feel, let it be freely expressed. you can not look like a supermodel? No matter, the most beautiful selfie is when it shows us with all your authentic.
Especially tested:
Like one side of your face than to 'else?
Try with and without glasses
Ruffles hair or brushed by a fast
Share your selfie with a friend or with those you love may add an addictive fun plus.
The selfie is the art of the mobile era. Have fun with it! Do not take everything so seriously. There are many applications for smartphones that are able to lighten and brighten the skin or the color of the lips, however remember that the most natural pictures usually are considered among the best.
You may also like: Do you look best in Gold or Silver color? & My Image Consulting for a picture day for baby