The image Consulting: THE SPRING MAN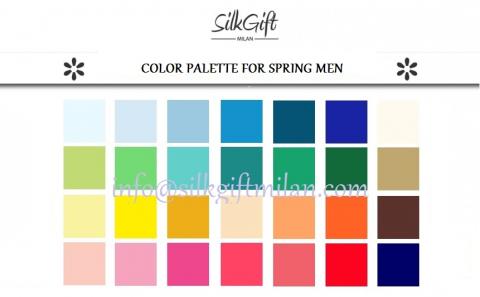 YOU HAVE 7 SECONDS. MAKE THEM WORTH.
I am an image consultant and a personal shopper, but also a consumer, I always put into question the quality of services offered by Silk Gift Milan because I think that they should always give you the best. As consumers, when we judge a product or a service, we are strongly influenced by its packaging and attention to every detail crafted. The package creates a strong aesthetic sense of the brand and ensures the first impression, that if positive will be projected straight to the "target" in the market.
The design of the package is the vehicle of success of any product to get into the shopping bag of every consumer.
My profession of image consultant leads me to ask you a question: Why don't use this to your advantage? Yes you read right, from the managers of companies to the shopping assistants ... for all which also focus on their strong aesthetic impact need a "packaging" careful to be able to project success with the brand they represent and their professional image on their target market, a few seconds are enough to be judged.
The visual image that is projected onto the outer world reflects your personality, the ethic job that you represent, your lifestyle, your belief system and core values ​​of each of you.
I love and I am excited to offer me as an image consultant because I firmly believe that the people we meet take quick decisions on us.
Have you to rent something? Are you behind the counter to sell your products? Do you need to win votes / consents? Remember, 7 SECONDS! In this short time when others look at you for the first time you will be judged. Whether it is at a meeting, at work or an interview, it does not matter if you have or have previous knowledge of you because it's actually the first time that you see that lay eyes on you.
Are you a nice person to be approached? Have you the status and authority? Are you reliable, competent, and confident? Are you made, professional and intelligent? Are you happy and excited to be part of the company where you work?
You should give your appearance, behavior and the way we communicate by transmitting a positive and professional image .. You have seven seconds, and together we will make them worth.
I keep on the journey through the seasons of the image consulting started with the previous post dedicated to that Autumn man and Winter man talking now about the Spring man .
THE SPRING MAN
Colours: What about dominant colors are light, warm and velvety.
Hair: Light blond golden or brown, light red, copper or auburn.
The skin color is warm and light with golden undertones, ivory, peachy, he may have freckles
Eyes: Blue or green, warm hazel or light brown.
Your best colors are warm, soft and lightweight
Cream, beige, camel, clear and yellow mustard, light and medium brown, warm red, orange, light orange, peach, coral, hot pink, navy, soft blue, turquoise, olive green, light green
Your basic neutral colors: cream, camel, brown, navy blue (first row)
Important to know: Use the basic colors for coats, suits and dresses essential because these tones work well with all colors and can be matched easily.
Avoid: Every dark shade and cold like black, dark brown, gray, purple, burgundy.
The jewel: Gold
Among the famous Spring men: Brad Pitt, Leonardo DiCaprio, Paul Bettany, Ben Foster, Robert Redford, Aaron Eckhart, Prince Harry, Prince William, Michael Fassbender, Ryan Gosling, Umberto Tozzi.