How to Hide a Big Tummy choosing the right clothes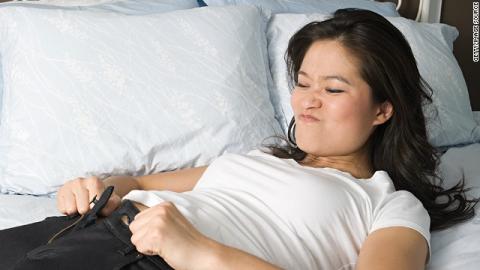 Call it what you want: big tummy, spare tire, fat... it is still a common problem for women and men alike. Everybody dreams of a flat stomach and as image consultant and personal shopper I will share with you my tips about how to dress well to conceal the stomach.
If you have a big tummy, here is what you do:
Cover the tummy with the right clothing.
To attract the eyes of the observer looking elsewhere (= the best weapons)
Do not draw attention to the tummy.
Define your life.
Learn to embrace the fat tummy and challenge yourself dressing with confidence.
ADVICE TO KNOW BEFORE PUTTING SLIM FIT CLOTHES
Wear underwear properly. With the right size of bra, your breasts will be modeled and raised giving to your a better waistline's definition. This in turn distracts the eyes from looking at your tummy.
I'm sure many of you have heard of shapewear, tight slips that aim to shape your body's shape and second of the problem that you want to achieve is the model for you. As an image consultant is a great remedy that advice when you plan to wear tight-fitting clothing for the holiday, for example. You can control your tummy to flatten it or sculpt the entire body by flattering curves.
Remember that every time you drag you have been providing your stomach's muscules to relax and soften the light-heartedness. If you do not want to attract the attention of a big tummy for sticking to bad posture trucco to get it better to make it flatter. Standing or sitting still with your back straight to pull the muscles of the stomach so it will seem flatter ... and then it's a benefit to the health of your back, does it!?
... OTHER TIPS FOR A PERFECT WARDROBE
As Image consulting is useful to speak of color: I l agree that the black and dark colors hide the belly very well, but do not limit yourself, life is joyful with happy colors and then choose bright colors making only careful when It is to wear them in the part where there is a big tummy.
Another bad habit to draw attention to a big tummy is to sit with your knees.
Tops that drapes, hang loosely or flowy over your tummy area are perfect because the cover without clinging to the body.
There is no reason to show off your tummy and so avoid tight clothing, especially all the models that shake the tummy area.
Jacket, coat or cardigan over a top or dress will be very "camouflage" for your tummy. For a more flattering, keep them unbuttoned to create vertical lines, as well as being the true "diet tips" will make you look even taller.
Garments with prints and patterns can hide the big tummy, but be careful that they are small and dense patterns and prints.
For fabrics, if you want to put the focus of your tummy you can just wear elastic like jersey or lycra, so avoid them to opt for cotton, silk, lace, chiffon and polyester. I would avoid even the sheen of satin especially in the belly area.
The peplum style is nothing but a dress, a top or a skirt with peplum at the waist, a strip of cloth applied like a frill around the waist. They are a wonderful remedy to conceal the stomach and I find it an elegant and feminine choice.
Avoid details on your tummy area. Pockets, pleats and embellishments such as buttons, studs, buckles, etc. at the tummy area should be avoided so as not to attract attention and also add dimension to the tummy. Instead worn details (like pleats, ruffles, beading or embroidery) at the top and upper clothes to draw eyes upward away from trouble tummy.
Consider the strength of color blocking. If you use the color blocking intelligently, you can draw attention away from your tummy and at the same time create the illusion of a slim and curvy silhouette.
Pants, jeans and shorts. Choose pants, jeans and shorts model building you will easily cover the flabby tummy, at the same time emphasizes your beautiful silhouette. For models with low waist is a big "no". Pants mid-rise may or may not put your tummy in the spotlight. Some do not show the flabby tummy, while others. This is because each brand has its own specific cutting.
The skirt is at the top close to your natural waist, it gives good coverage for your flabby tummy. Ideal is the pencil skirt because it will attract the attention in the hips and thighs. If the pencil skirt is not for you, you can go for flared skirts, it widens out from the waist thus covering the flabby tummy.
As an image consultant and personal shopper I love to say that you should always be proud of your most beautiful body's parte to show off and then draw the attention to your best part for taking your eyes off your tummy. Do you have thin legs? Wear a short skirt. Do you have beautiful arms? Worn with attractively short or top / sleeveless dresses. Even if your breast is moderate in size, you can wear a plumping bra to enhance it.
You may also like: Do you look best in Gold or Silver? --- How to wear the leggings