How to seduce the man of your life in lingerie
Tuesday, 25 October, 2016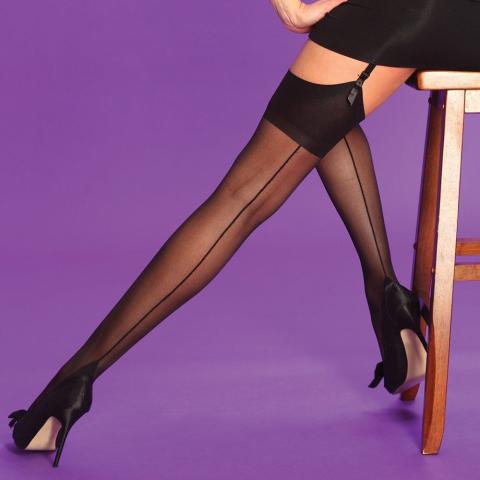 There are two elements of my wardrobe that best identify my personality and my style, which is an innate passion for shoes with heels and the lace, silk and embroidery lingerie ....I have hundreds that I love to wear for myself and the man I love.
I am among the women who believe, in contradiction with the trends, that we can not remain indifferent to the sensuality of the legs of a woman when she is wearing a nice pair of silk stockings, and there's anything so seductive and refined then the socks ... thigh highs worn with a simple garter to add something classic and timely in your sex appeal.
Many thigh highs on the market do not have back seams they are seamless, but I find in the seam a powerful touch of great refinement, especially if you have in your wardrobe a stunning pumps with high heels to wear with thigh highs with heels and the thoughts turn to the movie star of the '40s.
To seduce your man you need to think of your bedroom with satin blanket, a bottle of sparkling wine with strawberries and beads of dark chocolate, is used to create a certain mood, it is one possible solution of how to set up the environment for a sensual evening.
Think you have to go to meet your man with a dress in satin, a pair of thigh highs (with back seam) and heels. Of course he does not know, but since he will get to see it all becomes clear. The satin rustling that caresses your body, clinging to the seductive curves it hints at delights to come.
Remember that before you start the evening it is necessary to provide the 'right atmosphere for "the final effect." Not far from the couch you can prepare on a table a bottle of Italian prosecco because in addition to its prestige has aphrodisiac powers, in bucket with ice (remember to also add to the water ice. A handful of coarse salt will accelerate the cooling time) and two flutes, for me are the best glasses of prosecco. Although they are not in season strawberries or berries and dark chocolate are among the proper attention that make the difference. Soft lighting and jazz music in the background.
While you will offer prosecco he will be rewarded with the sight of your sensual look, pulled tight while bending over slightly from him, and his eyes will be all over your body, he'll see those sexy stockings with back seam and heels. It' s a moment where every woman is driving the evening and from there you can gently take him anywhere you want to go, or sit down with prosecco and enjoy his attention.
It's a heady combination created not only by the prosecco, but by the seductive atmosphere too. The look of desire in his eyes as he bends to caress the legs. Imagine his fingers run along the seam of your thigh highs, from the ankle to the inside of the knee and the upper part of the socks. Slide a finger under the lace edges gently caressing your skin ... Imagine how it feels in those moments where all five senses are engaged by the sparkling prosecco to the smooth taste of dark chocolate, to silk thigh highs and the silky skin.
You may also like: Underwear as Outerwear