Diaper cake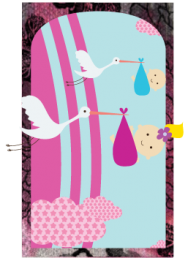 What is a Diaper Cake?
A Diaper Cake gives parents what they need most during early parenthood: diapers. Every baby needs diapers, and parents are often shocked to discover just how expensive diapers can be (as well as how many diapers they need to buy!). When you give a Diaper Cake as a gift, you're providing a helpful solution to a classic parenting problem. Basically, Diaper Cakes are a creative way to display dozens of diapers. But our gifts are so much more than that. While the center of every Diaper Cake is the creative display of the actual diapers, each cake is also accessorized with toys, books, baby products, and other useful products. In other words, our gifts is a complete solution for the challenges that parents encounter during and after a pregnancy.
Each gift is designed in a unique and fashionable way. Our cakes feature creative designs and color schemes that will appeal to any child. We have invested care into each and every one of the Diaper Cakes we sell, making it a perfect gift for new and expectant parents.
Our cakes make a great gift for Baby Showers, but they can be given at virtually any occasion. Diaper Cakes are a popular gift before or after pregnancy, and they can be featured as the centerpiece at a baby shower or as a gorgeous display for any event.
Diaper Cakes can be designed specifically for boys and girls, or they can be created in a gender neutral design. The cakes are generally designed in four tiers, like a traditional wedding cake. In addition, every cake we sell is handcrafted to ensure the highest level of quality.
Whether you are trying to make a splash at a Baby Shower or simply showing a friend that you care, Diaper Cakes are an effective way to celebrate the birth of any baby.